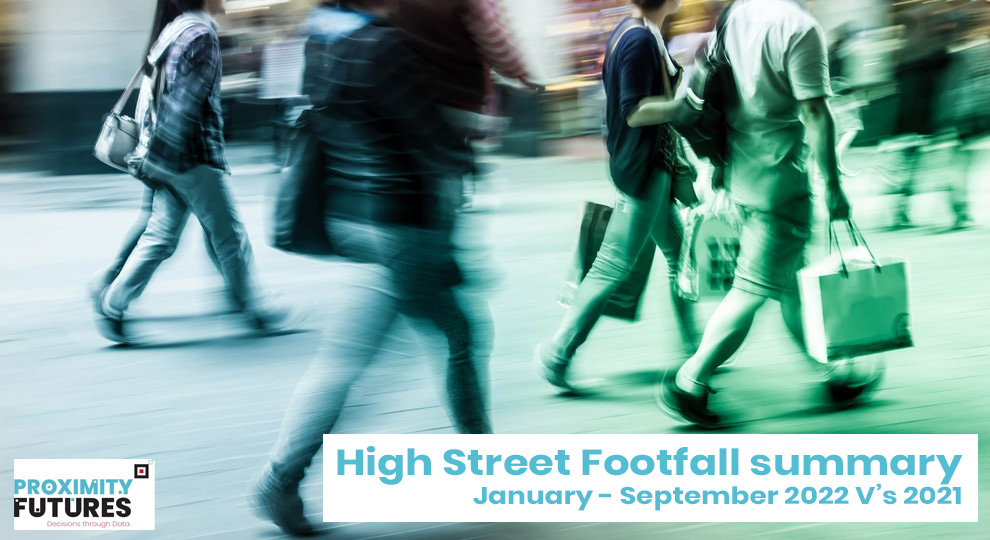 This report will explore comparisons between footfall throughout 2022 as we enter a year without restrictions compared to 2021, which saw the UK begin the year with restrictions, which then eased as the year progressed.
This interactive report allows the user to explore and select the categories they wish to know more about using the slicers and interacting with the visuals.
One main point that is clear from this report is that overall footfall in 2022 is significantly and consistently lower than it is in 2021 when comparing periods where restrictions are lifted. As expected, we can see from this report that restrictions significantly impacted footfall in the early periods of 2021. Furthermore, the report also clearly demonstrates that although footfall as a whole has dropped, the average dwell time has seen a continual upward trend over the last 2 years.
Another thing that is important to note is the difference in High Street footfall, which is where Proximity Futures has the vast majority of the sensors and retail, where Proximity Futures has less sensors. Retail has seemingly fared slightly better in comparison. Discussions for the reasons behind the continual drop in footfall over the past 2 years are important. By understanding the reasons, the downward spiral can potentially be reversed and struggling high streets, along with markets, can not only survive but grow once again and thrive in the future
To access the interactive report please click on the link below